I've got my own 'puter again.  No more having to share, yay.  (Just imagine the kind of role models we're going to be … something along the lines of my dear Dad who always encouraged me to drive slowly.  Snort.)
Little Boy continues to pack on ounces, if not of weight than certainly of 'tude.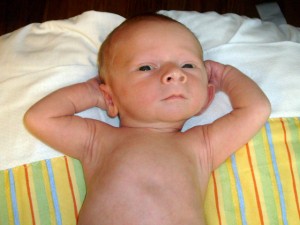 'Sup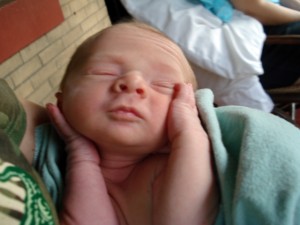 Face so purty … can't … stop … touching.
Dis bedder be good.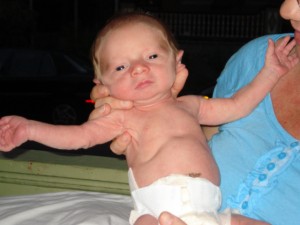 Drinks are on me!
Fortunately we've developed two strategies for when he appears to be getting too big for his britches:
Dress him in britches too big for him.
Arrange a play date with 5-month-old cousin Oliver, beside whom he looks like a 97 oz. weakling.
For serious narcissistic adjustment, we may even administer both simultaneously.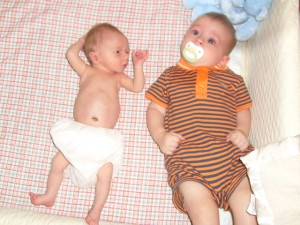 Darn it, I'm sick and tired of being a scarecrow!  Charles Atlas says he can give me a REAL body!  I'll gamble a stamp and get his FREE book!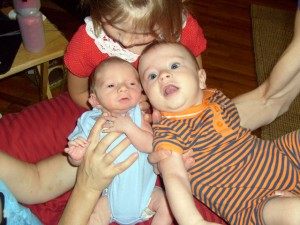 Jes' remember Fran-, er, Ollie baby, don't swing where you sleep.
Speaking of swinging, check out Ana Lisa's new hands free.
(Photo credit to cousin Greta)
The sling, courtesy of our good neighbor Judi, has made everyone a little more mobile.  (We've ordered another one sized "big lug" so I can share in the packhorse duties.)
On Monday Jai ventured all the way across the street to help give a bon voyage to neighbor Leela and her parents Lisa and Ram, who will spend the next year in India.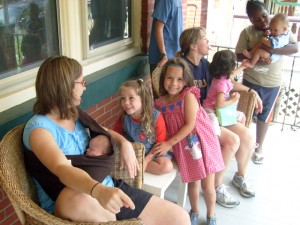 Leela and her posse (referred to in our household as "future buds and babysitters)
On Wednesday and Thursday we ventured further afield–two whole blocks away to my brother Dave and sister-in-law Amy's house.  Between their house and ours, several important family rituals occurred.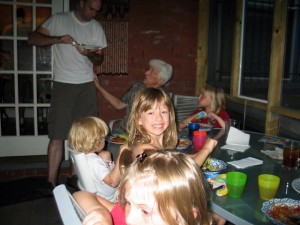 Any guesses which of these young 'uns might be having a birthday?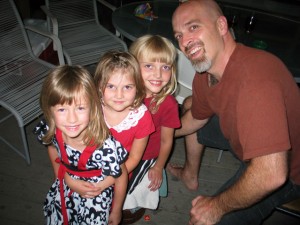 Riddle: How many Greases does it take to provide leverage for cranking out homemade ice cream?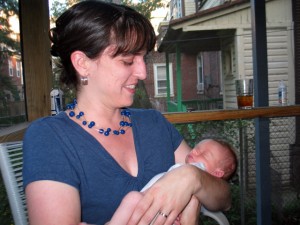 Jai bird took a turn in the experienced arms of my sister Bev …
… and brother-in-law Dale.
"reGreta," as she prefers to be called when performing, practiced for her upcoming MTV video shoot …
… while grease Naomi aka "Nomers" rehearsed for her upcoming off-Broadway performance, "Descent into Madness."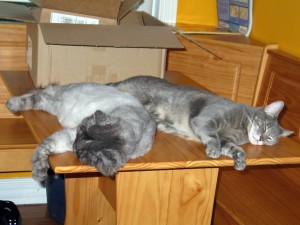 The furry members of the family got their relax on while the Hairless Beast is still too small to crawl after and yank tails.
And finally, speaking of rituals, please take a moment to bid adieu to the umbilical cord, which fell off yesterday.
GretaTheGrease, who allowed earlier in the week, "That crusty thing freaks me out," will undoubtedly be pleased.
---
---