Our son Javid would have been two today.  We're finding it no less strange a milestone than it was a year ago.  Rather, with the coming of a second birthday, our memories of him get wrapped in yet another layer of imagining–of him continuing to be alive, growing, flourishing.  Getting older.
It's also strange to have those imaginings in the presence of a baby who is alive and getting older.  Jai is now 2 1/2 months old, and weighs almost exactly what Javid weighed when he died.  One similarity amid so many profound differences.
We only ever got to hear Javid make even a faint sound once or twice, during the times when they were trying to see if he could come of the ventilator.  Even then, with his damaged lungs, he could only produce tiny squeaks.
Little brother Jai, seemingly determined to balance the scales, is fully able (and more than willing) to wail and bellow.  Nothing wee about the sounds this kid produces.
As Jai moves in and begins to occupy more of our mental landscape, we do notice ourselves shifting things around in there.  But Javid's place is secure, and we continue to feel grateful for the brief months we got to spend with him.
Back in July, the week before Jai was born, my sister Bev and her family came to visit.  Greases Greta (8) and Naomi (5) spent an afternoon playing at our house.  At a certain point Naomi looked across our living room and noticed the little blue chair that still sits there with a sign reading, "Javid sits here."
"Are you going to change the sign once the new baby is born?" she asked.
I told her I wasn't sure.
She thought about it a while, then offered:  "You could name the new baby Javid too.  That way you wouldn't have to change the sign."
We had a nice little conversation about how it sometimes felt good to have the chair there because it was a way to remember Javid.  She seemed to think that made some sense.  Mostly we were just impressed with her drive to come up with a solution for what she saw as a problem for us.
The chair–a gift from Javid's Grandpa Yoder–still sits in our living room, and it still has the same sign.  So far we haven't experienced it as something requiring a change.  Perhaps someday.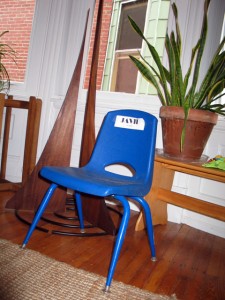 To mark Javid's birthday we're going for a hike later this afternoon in the Wissahickon Valley.  We also decided a good way to honor Javid was to celebrate his little brother, so we gave the poor crusty kid a good scrubbing this morning, and now have been spending some time hugging him up and playing with him.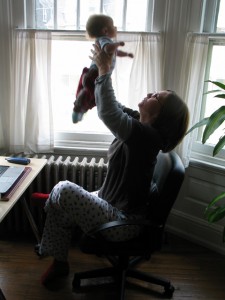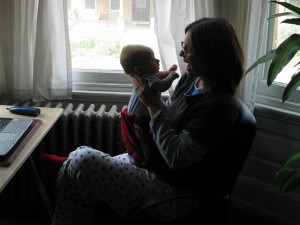 We're tremendously privileged to have had two great sons.  It's great fun to now be watching Jai grow and change.  Javid, who no longer has the chance to evolve except in our imaginations, continues to warm and inspire us in many ways.
Happy 2nd birthday to the Wee Boy.
---
---