The poor kid, blessed *ahem* as he is with half his daddy's genes, turns half a year today.  And as he grows he appears to be developing into at least 50 percent goofball.  Flying Spaghetti Monster ha' mercy.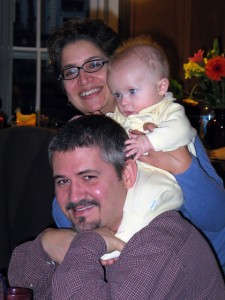 Uncle Jud, uncle Jud, what am I?  A brain sucker.  What am I doing?
Starving.
Hoo boy, it appears the hijinks have barely begun.  We may have our work cut out for us to socialize him at least to the point where he won't embarrass us at Yoder reunions.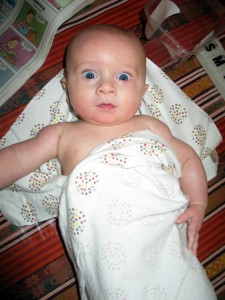 Who you lookin' at?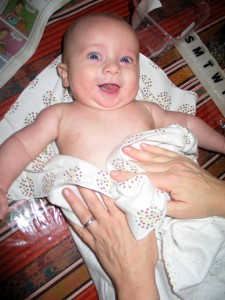 Me right?  Well don't be shy.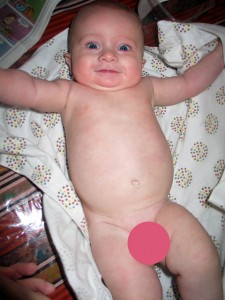 Come give us a hug!
Just imagine the first time he pulls that one in public.  Although I guess if he's going to I'd rather he get it out of his system now than when he turns 20.
We'll just have to keep our eyes peeled.  If not, who knows how quickly the bad influence might spread.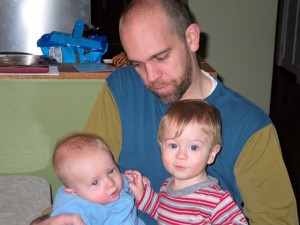 Everybody look at the camera now.  Isn't that adorable?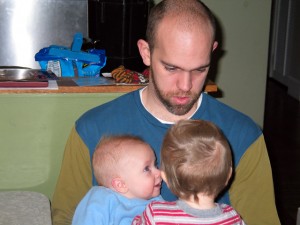 Hey Ollie, pstpsspsspsspss.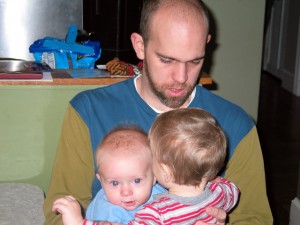 Ha!  Mmble mble mble snicker, mble snort!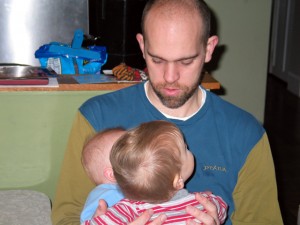 Oh hi.  No, nothing.  Nobody down here but us cute, innocent little babies.
It's a sorry state of affairs; not that I'm willing to accept all the blame.  There's no shortage of wannabe hyucksters in this family system.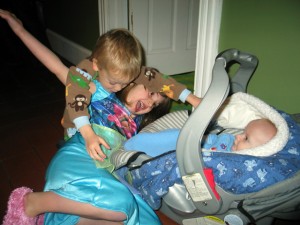 Overture, curtains, lights, this is it, the night of nights.
No more rehearsing and nursing a part.  We know every part by heart.
Overture, curtains, lights, this is it, you'll hit the heights.
And oh what heights we'll hit.  On with the show this is it.
Tonight what heights we'll hit.  On with the show this is it.
Come to think of it, the blame may not even reside exclusively in the Lapp genes.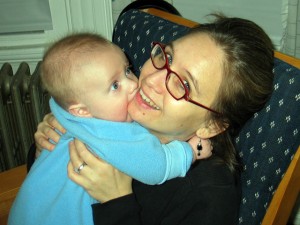 How far does the apple fall from the tree?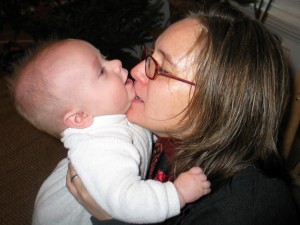 How far indeed?
Happy half-birthday to our little guy.  If as seems likely he's on the path to a silly future may it be a merry foolishness with generous doses of gentleness and kindness thrown into the mix.  Maybe then dear old dad won't have to fear the inevitable payback on that day when he learns to speak for himself.
---
---