Well lookie here, intrepid explorers, we seem to have stumbled across an unoccupied planet.  I do wonder what ever became of the previous inhabitants…
Hey, many apologies to whoever is still checking in on the site.  As far as excuses, I've got nothing.
Well, actually, I've got one.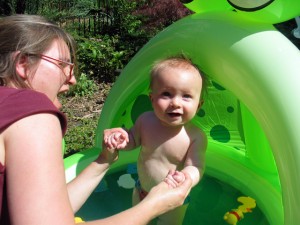 Be honest, which would you rather do:  write a blog post or splash around with your kid in an inflatable frog pool …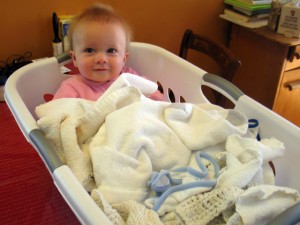 … play peekaboo in a laundry basket …
… watch him coax a smile from Oscar the Grouch …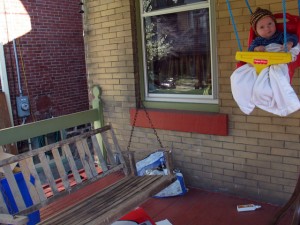 … or throw his butt in a swing and swing and swing and swing?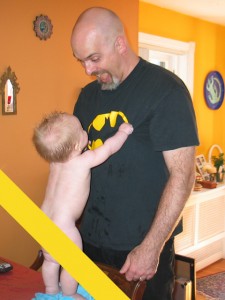 Speaking of butts, holy birthday suit, Batman.
'Tis true we are most delightfully distracted, as we watch the Tyke fill out and up and learn to grab and wave and bang and babble.  Nine months after his arrival, Jaibird has settled into our lives most thoroughly.
As time flows and we watch a little boy grow up, we also remember a little one who didn't get to.  Today is two years since our first son Javid died.
Six and 18 months ago we marked the anniversary of Javid's birth, and this is also our second time round the horn with remembering the day of his death.
The memory of Javid's birth we associate mostly with fear–over what might happen to Ana Lisa because of the preeclampsia and about how in the world this tiny little scratch of a thing they pulled out of her belly might possibly survive.  It has also become a day of wonder for us, that the tiny critter who started out looking so alien became so much a part of us, and along the way wrapped so many lovely people into our lives.
The day of his death is about sadness and disappointment and, of course, loss.  Knowing so many others in the world have suffered comparable or yet more terrible losses, we still hope this will be the benchmark for sorrow in our lives, never to be eclipsed.
And yet with two years intervening and hearts filled to overflowing with Jai, we know our sorrow in losing Javid would not run so deep if not for the surprising joy of loving a wee boy hooked up to wires and tubes and needing the efforts of so many people to stay alive another day.
Last year on the first anniversary of Javid's death, Ana Lisa was just past 24 weeks in her pregnancy with Jai.  We had been holding our breath since week 20, when preeclampsia can first start to manifest, and weren't expecting to exhale until at least 28 weeks, the end of the micropreemie stage.  I remember how deliberate we were in moderating our remembering of Javid, not wanting to create any more stress on Ana Lisa's body during that scary period.
This year we feel more free to wander in our memories.  And it is strange how they do keep cycling back.  Ana Lisa dreamed the other night of Jai, and then of another, older boy who she knew in her dream was Javid.  We think at times about what our lives would be like if he had lived.  And we miss him, while we're also grateful he's no longer tied to all those machines.
In the last week Jai made his first clear moves toward mobility.  He's not crawling yet … for one thing he's moving backward instead of forward.  It's more of a scootch-roll combination–not always getting him where he wants to go but clear where it's eventually headed.
These last 2 1/2 years have felt a lot like the way our little guy moves.  There's certainly been plenty of backward and lateral movement.  But if we back ourselves into a corner, or bonk our heads against something unexpected and wail, how grateful we are for the many hands that continue to reach for us and set us to rights.
Thank you to those of you who still check in here.  Again, I am sorry for the long silences.  But we still feel your arms around us, the warmth of your caring for our sorrow and the heat of your joy at ours.
Happy anniversary to Javid Fynn.  And on-going thanks to all of you.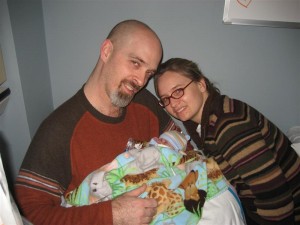 ---
---